All things bright and beautiful,
All creatures great and small,
All things wise and wonderful,
The Lord God made them all.

Each little flower that opens,
Each little bird that sings,
He made their glowing colors,
He made their tiny wings.

The purple-headed mountain,
The river running by,
The sunset and the morning,
That brightens up the sky;

The cold wind in the winter,
The pleasant summer sun,
The ripe fruits in the garden,
He made them every one;

The tall trees in the greenwood,
The meadows for our play,
The rushes by the water,
To gather every day;

He gave us eyes to see them,
And lips that we might tell
How great is God Almighty,
Who has made all things well.

Lyrics by Cecil F. Alexander, 1818-1895

Here is where you can see the current collies we have available
as well as some of the ones we have had in the past.

Zanzabar was placed in his forever home with Ann and Marty
where he enjoys long walks on the beach with them and his
new sister Inuit, who thinks he is the greatest. He also gets to
accompany Ann to work everyday. Ann was kind enough to send
us some photos of Zanzabar relaxing at home.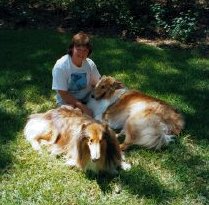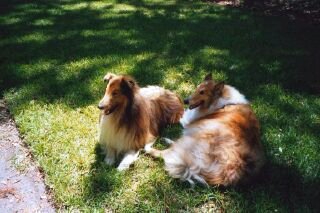 Zanzabar is pictured on the left.
Zanzabar passed away with Ann and Marty by his side
after a wonderful life filled with love and affection.
His memory will live on forever in the hearts of those who loved him
while he patiently waits for that joyous reunion when his loved ones join him.
1995-2006
Kenya is also in her forever home with Connie. She enjoys
being the only child. Kenya has done well in obedience with
Connie, finishing at the top of her class. She also enjoys
playing games of fetch with kooshlings. You can see how she
just loves being the center of attention.